Miracle Cures of the Past – Kaffee und Kuchen 2 May with Dr Simon Walsh
by John Clarke
If you had been living in Tanunda in the first half of the twentieth century, you would probably have sworn by Heuzenroeder's Altona Drops for "Indigestion, Sickness, Loss of Appetite, Diarrhoea, Impure Blood, Stomach, Liver Troubles, Constipation & Biliousness." Or if you had a sprain or joint pain, there was the infallible E T (Essigsaure Tonerde).
At the last meeting of the German speaking group Kaffee und Kuchen the guest speaker was Dr Simon Walsh, a Lecturer in the German Department at the University of Adelaide. His subject was Martin John, his maternal grandfather, the popular Tanunda pharmacist.
Martin belonged to the third generation of the John family to live in the Barossa Valley, his ancestors having been among the early settlers in Light's Pass. While still a child, his father had died, and he was largely raised by his elder brother Arthur. An accomplished musician, Arthur was for many years the conductor of the Tanunda Brass Band. While Martin performed with his brother at recitals on the fluegelhorn and the cornet and maintained an interest in music throughout his life, his focus was on pharmacy.
'English' doctors and their medicines were not trusted by local residents, and many restorative syrups and lotions, proven over generations in Germany, had been imported (or at least the recipes, which were then prepared by Barossa pharmacists). Among the most successful was Moritz Heuzenroeder, and Martin went to work for him in his Murray Street pharmacy, purchasing the business in 1936 when Moritz retired.
It was a very different age, and pharmacists were part chemists, part vets and even part dentists. Those suffering toothache could have their teeth pulled by Martin, and there was Berg Oil which cured stomach ailments and colds in cattle and sheep.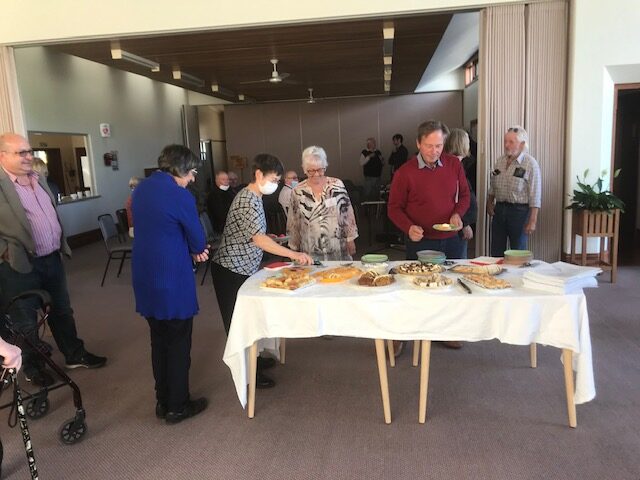 The next Kaffee und Kuchen meeting, to be held at the Langmeil Centre, 7 Maria Street, Tanunda on Monday, 30 May, will be preceded by a luncheon at 12 midday. The cost will be $20 per person. Those wishing to attend should contact Steffi Traeger on 0408 621 384.