Kaffee und Kuchen (coffee and cake) meetings are held on the last Monday of the month. Each month we meet to listen to a guest speaker, to join in speaking German and to enjoy Kaffee und Kuchen. New members and visitors are always welcome.
KAFFEE UND KUCHEN
Monday 27th June 2022, 1pm -3pm
Langmeil Lutheran Church Hall, 5-7 Maria St, Tanunda SA 5352, Australia
Speaker: Ingrid Muenstermann: Aspirations and Acculturation of German-Born Immigrants in Australia
Ingrid Muenstermann was born in Hamburg and came to Australia in 1973. Ingrid worked in hospitals and medical centres before studying and doing a Ph.D. at the Flinders University. As a lecturer she worked at universities in Adelaide und Wagga Wagga and is still involved in Sociology and Social Health Sciences at Flinders University, South Australia, and Charles Sturt University, New South Wales.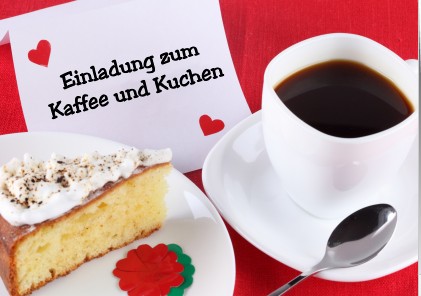 Auf Deutsch:
In bezug auf die deutsche Sprache: Mein Deutsch: muss oft nachdenken, Begriffe muessen aufgefrischt werden, Worte fehlen, so, es ist ein wenig holperig. Mein Englisch: spreche mit einem Akzent, keineswegs perfekt, Englisch ist aber wichtig fuer mich wegen des Unterrichts.
Kurzer Lebenslauf: Geboren 2.8.1938 in Hamburg, Ausgewandert nach Australien das zweite Mal in 1973
Familie: zwei Toechtern, zwei Enkeltoechter, zwei Enkelsoehne, drei suesse kleine Urenkelinnen
Arbeit: Stenotypistin, Sekretaerin in Deutschland und in Australien (started as office assistant grade 1 at Hillcrest Hospital). Secretary of Endocrinology, Flinders Medical Centre, 1974 to 1992
Studium an der Flinders Universitaet von 1986 bis 1992 (Teilzeit)
Ph.D. an der Flinders Universitaet 1992 bis 1997 (Vollzeit, Stipendium Flinders Universitaet)
Kurzzeitvertraege Flinders und Adelaide Universitaet von 1998 bis 2002
Lektorin (Vollzeit) Charles Sturt Universitaet, Wagga Wagga, von 2003 bis 2012
Seit 2014 Kurzzeitvertraege an der Flinders Universitaet, unterrichte am College for Nursing and Health Sciences (Faecher die Gesundheitssoziologie betreffend)
Momentan arbeite ich an zwei Büchern:
Aspirations and Acculturation of Germany-Born Immigrants in Australia. Die Hilfe von Marita Huxholl wird dankbar bestaetigt. Dieses Buch sollte zum Ende dieses Jahres veroeffentlicht werden. Finanzielle Unterstuetzung fuer die Veroeffentlichung: Noarlunga Council und Suedaustralischer Deutscher Verein 
Human Migration. InTech / Open Mind London (commissioned editor)