At the height of the Covid19 lockdown last year, Judy Gillett- Ferguson decided to write a novel. Not a task to be taken lightly when you are in your eighties!
She had seen a photographic exhibition a few years earlier at the Barossa Regional Gallery in Tanunda that had made her think about what the effects of the imprisonment of their menfolk would have had on the small farming communities in the Barossa Valley during World War 1.
Many Barossa men of German descent were interned for the duration of the war at the same time that many of their relatives were fighting in the Australian forces. To Judy, the irony was unbelievable.
The photos had been taken by the German photographer, Paul Dubotzki, who was interned on Torrens Island during WW1 and Judy was impressed not only by the remarkable and unique history they presented of a dark time in South Australian history but the amazing good fortune that Dubotzki had been able to take his camera and photographic equipment into the camp with him to record the bleak and harsh conditions of men separated from their families and forced to rely on each other.
She read several research articles and books about internment in South Australia and also received help from the Lutheran Archives in Adelaide and the SA Police Historical Society. She is particularly grateful to all her friends and family members who read early drafts and gave invaluable feedback.
The book is titled "The German Teacher" and set in 1917 in a fictional farming township near Angaston.
In the novel, the body of the previous local school teacher of German descent, is found in a nearby vineyard after he was believed to have retired to Adelaide. His young replacement arrives the day after his body is found. She must now teach only in English and all German culture and language have been prohibited by law.
The community is deeply divided but she assists the local police officer to unravel the mystery of the old teacher's death while each of them deal with demons and terrors of their own.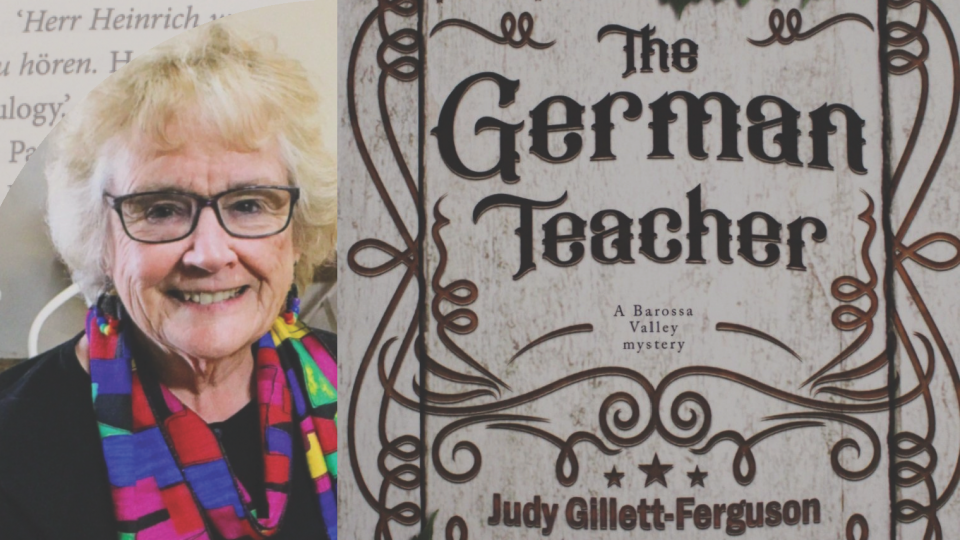 Judy would like to acknowledge the invaluable help and encouragement of the council's Cultural Heritage Adviser, Jacinta Weiss, who has organised the launch for the Town of Gawler on Friday May 7th at 7pm in the Institute Hall as part of Council's SA History Month celebrations.
The Mayor will launch the book and popular ABC Radio personality, Peter Goers, will give a short talk. Peter's great- great- uncle, Herman Carl Goers of Tanunda, was interned for the duration of WW1 with 7,000 other Australians of German descent and Peter feels that this is a stain on Australia's democracy.
Another anti – German casualty was the world famous artist Sir Hans Heysen who, in 1917, had his works banned from an important exhibition at the Art Gallery of NSW because of his German heritage.
In 1999, the Governor General of Australia, Sir William Deane, said,
"The tragic and often shameful discrimination, against Australians of German origin, fostered during the World Wars had many consequences. No doubt some … carry the emotional scars of injustice during those times as part of …family histories. Let me, as Governor General, say to all who do, how profoundly sorry I am that such things happened in our country."
Judy will be at our April Kaffee und Kuchen meeting on 19th April 2021.
On Tickets to the launch should be booked through the SA History Festival website: historyfestival.sa.gov.au 
Due to Covid restrictions seating will be limited and so booking is essential. Judy will sign copies of her book which will be on sale at the event for $25.
If you are unable to attend, copies of the book are available on line (at Amazon, Dymocks or Booktopia) and at Alison's Bookshop in Willaston. Copies are also available on loan at Gawler and Barossa Libraries.