by John Clarke
When you looked at me with those blue eyes, I knew that you loved me. When you left that day, I just wanted to cry and cry, but I was not permitted to let anyone know .. But now you are mine after a long battle. If it had been my decision alone, I would have come to you sooner.
So Frieda Keysser wrote to Carl Strehlow on 22 July, 1894.
At the last meeting of the German speaking group Kaffee und Kuchen the guest speaker John Strehlow spoke about his grandmother.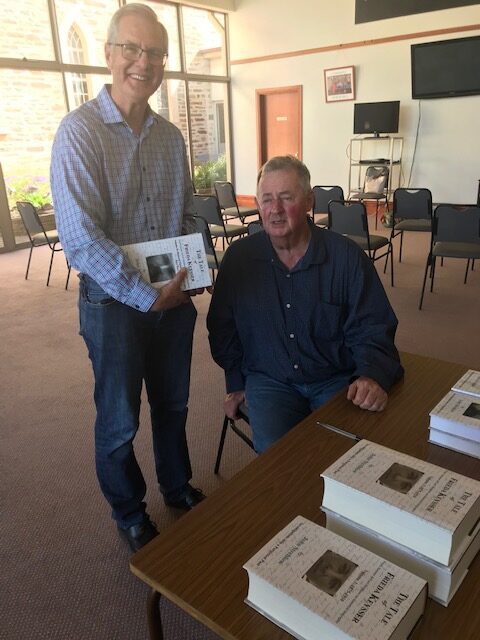 Frieda had met Carl on Maundy Thursday, 14 April, 1891. She was 16 years old, orphaned and living with her great-uncle Pastor August Omeis. Carl was 19, studying for the ministry and shortly to leave on missionary work to Australia. Only three days after their first meeting he left to return to the seminary at Neuendettelsau.
It would be more than four years before their marriage at Point Pass on 25 September, 1895. Although Carl declared his love very soon after that first meeting, Pastor Omeis opposed the match, seeing his ward's attachment as no more than a silly girlhood crush.
In Australia, after his ordination at Light Pass, Carl went first to Bethesda Mission in north-eastern South Australia – there he translated the New Testament into the Dieri language – and then in 1894 to the Hermannsburg Mission 130 kilometres west of Alice Springs. His courtship of Frieda was pursued through letters.
Eventually Pastor Omeis relented, and he accompanied Frieda to Genoa and saw her embarked for South Australia. Ten days after her arrival at Port Adelaide Frieda and Carl were married. Their honeymoon was spent travelling over rough terrain on the Oodnadatta mail buggy to Hermannsburg. Twice they ran out of water.
Between 1897 and 1908 she gave birth to six children. For many years she was the only white woman on the mission, and for two of those births the only person in attendance was her husband. Like her husband she learnt the Aranda language so that she could communicate with the native people in their own language. Like her husband she opposed the government policy which aimed to end Aboriginal practices by removing the children from their parents. She helped Carl record Aboriginal ceremonies, especially those relating to women. It was to the young women and their children that she was particularly devoted. She worked to improve hygiene and succeeded in reducing the cases of infant mortality which had been a tragedy among the native people at that time.
Frieda and Carl spent 28 years at Hermannsburg, the only lengthy break being in 1910 when they went to Germany to arrange the schooling of their children; only the youngest Theo returned home to Hermannsburg. Carl's death on 20 October, 1922 was described by Theo in his book Journey to Horseshoe Bend.
After Carl's death Frieda supported her son by accepting the position of matron at Immanuel College. She returned to Germany in 1931, endured the privations and tragedies of World War II, and fled Silesia where she had been living to escape the advancing Russian army. She died at Neuendettelsau in 1957.
John Strehlow finished his tribute by superimposing over an image of his grandmother the final words of one of her last letters to her remaining friends at the Hermannsburg Mission.
The next Kaffee und Kuchen meeting will be held at the Langmeil Centre, 7 Maria Street, Tanunda on Monday, 19 April, starting at 1 pm.