Das Kaffee und Kuchen Treffen ist ein gemütliches Zusammensein zur Pflege der deutschen Sprache. Es findet jeden letzten Montag im Monat von 13-15 Uhr im Langmeil Centre in Tanunda statt.
Neue Mitglieder und Besucher sind stets willkommen.
Unser Koch Reto bietet ein leichtes Mittagessen fuer die Gäste an: Wurstsalat fuer $15 pro Person inklusive Kaffee und Kuchen. Bitte meldet euch bei Reto an, der letzte Tag fuer die Buchung ist Donnerstag 20. Februar. RSVP Reto 0466 430 803. Bitte hinterlasst eine Nachricht mit vollem Namen und wie viele Leute reservieren. Der letzte Tag zum Reservieren ist Donnerstag, 20. Februar 2020. Das Essen beginnt um 11:45 Uhr.

Wo: Langmeil Centre, 7 Maria St, Tanunda
Wann: 24. Februar 2020, 11.45pm – 3pm
Kosten: $15 per person (bitte Bargeld mitbringen)
Unser Gastredner wird noch bekannt gegeben.
____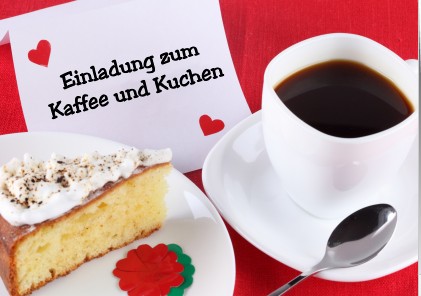 Kaffee und Kuchen (coffee and cake) meetings are held on the last Monday of the month. Each month we meet to listen to a guest speaker, to join in speaking German and to enjoy Kaffee und Kuchen! We meet in the Langmeil Lutheran Church Hall, Tanunda, from 1pm to 3pm. New members and visitors are always welcome.
Next meeting: Monday 24th February 2020
Chef Reto offered to prepare a light lunch for the guests: Traditional German/ Swiss style "Wurstsalat". Cost is $15 p.p. including coffee and cake. Please RSVP to Reto 0466 430 803 if you would like to come. If no answer leave a message or text of how many  people and your full name please. Last bookings taken Thursday 20th February 2020. Lunch starts at 11.45am
Where: Langmeil Centre, 7 Maria St, Tanunda
When: 24th February, 11.45 pm – 3pm
Cost: $15 per person (please bring cash)
Guest speaker to be announced.