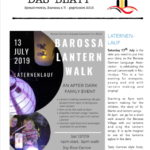 Das Blatt" is the bilingual newsletter of the Barossa German Language Association.
We are are accepting contributions for consideration. This year "Das Blatt" will be published every three months in March (Autumn issue), June (Winter issue), September (Spring issue), November (Summer issue) and the deadline for the newsletter is always the 10th of those months. If you wish to be a part of it, please send your articles, notes etc. to newsletter@barossagerman.com.au.
Please email us to newsletter@barossagerman.com.au for more information and if you would like to be part of our mailing list to receive the newsletter in your inbox.
Click on the links below to download past issues.