In 1517 Luther posted the 95 Thesis to the Wittenberg Church door, setting up a public discussion on the theological issue of salvation by good works or by 'sola gratia', 'by grace alone'. The Barossa German Language Association Inc. is commemorating the Dr Martin Luther 500 event with a seminar in the Barossa Valley. Presenters at this Luther 500 event will speak about Luther the pastor, teacher and scholar, reflect on Luther's influence on Christian music and education, and describe his impact on the German language, see the list of speakers below.
WHEN: Sunday 20th August, 2-6pm.
WHERE: in the Wine Centre of Faith Lutheran School, Tanunda
The seminar is free of charge. Some cheese, wine and nibbles will be served to conclude the seminar.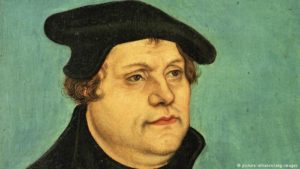 Speakers and the topics of their talks
————————–———————–
Dr Malcolm Bartsch: Luther on Music and Education
In his writings, Martin Luther emphasised two gifts of God for all people: the gift of music and the gift of education. He also regarded both as essential for the people of his day as they came to appreciate the impact of the reformation insights in their lives.
Dr Malcolm Bartsch, born and brought up in the Barossa Valley, is an emeritus lecturer of Australian Lutheran College, North Adelaide, where he also served as dean of studies and vice principal. He was formerly a lecturer and principal of Lutheran Teachers College. He has written on Lutheran education including the publication of his doctoral thesis Why a Lutheran school: Education and theology in dialogue.
Dr John Kleinig Luther on the Power of Spoken German
More than anyone else Luther has shaped the German language by his popular translation of the Bible and his other writings. As you read what he has written, you hear his lively voice with its ardent appeal to the heart and the soul, the five senses and the imagination. He continues to influence spoken German because he had such a good ear for its sound, such a sharp sense for its vividness, and such a fine feel for its latent energy.
Dr John Kleinig was brought up in the Barossa. He served for eleven years as a college chaplain in Melbourne and Brisbane. He is emeritus lecturer of Australian Lutheran College where he taught Biblical and pastoral theology at the Australian Lutheran College. His BA Honours thesis was on the poetry of the German poet Andreas Gryphius. He has published widely with major commentaries on Leviticus in 2003 and Hebrews in 2017.
Dr Maurice Schild on Dr Martin Luther: pastor, teacher and scholar
Dr Luther's scholarship is immense with his collected works covering more than one hundred volumes. He was also an intensely engaged parent, pastor and community leader. This presentation will relate aspects of Luther the pastor and teacher.
Dr Maurice Schild was born in Eudunda, SA, and grew up at Point Pass. He was called to lecture in church history at Luther Seminary in 1970. He lectured in medieval, Reformation and modern church history and in Lutheran confessional theology. He has many publications on Dr Martin Luther.